San Francisco, CA (PRWEB) June 7, 2010 — As this year's television season draws to a close, a newly emerging trend has become clear: online viewers prefer vastly different types of shows than their offline counterparts. SideReel, the largest independent destination for people to track and watch shows online, has measured markedly different viewing trends among its online TV audience than Nielsen's offline audience.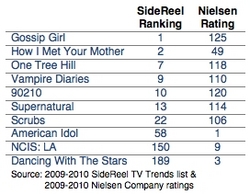 Shows regularly topping the Nielsen charts – like American Idol, Dancing with the Stars and NCIS – are absent from SideReel's most viewed shows, while series with lower Nielsen ratings – like Gossip Girl, One Tree Hill and recently-canceled Scrubs – are perpetual SideReel favorites. Gossip Girl, for example, ranked No. 125 in the Nielsen ratings this season but regularly holds the No. 1 spot on SideReel.
"Online TV viewers are younger and more discriminating," said CEO and co-founder Roman Arzhintar. "They're driving consumption away from the TV set to the computer." Since August 2009, advertising dollars have also followed this valuable demographic online. 80% of SideReel users are between 18 and 34 years old and watch between 10-20 hours of online TV per week.
SideReel makes it easy to track shows you've watched and want to watch, get new episodes as soon as they become available, and share your favorite shows with friends. Get over 17,000 shows, 97,000 episodes and the latest community news, reviews and gossip in one place. If it's online, it's on SideReel.
# # #